Congratulations Pine Crest Class Of 2022
---
It's finally here! Your SENIOR YEAR! And one of the first things you get to do as a high school senior is a special, one of a kind, photo shoot at Little's Photography.
There are multiple types of sessions available to you for your Senior Year. Only one session is required in order to be placed in your yearbook.  The required session is named TRADITIONAL below. You may also choose an upgraded session for yourself.
The most popular upgrades are a Candid Session or a Lifestyle Session which give you a lot more freedom and creativity to express yourself. Enjoy looking through all of your options before choosing what's right for you. No matter which option you select, it will include the basic requirements as well as any upgrades. If you choose to upgrade your experience, the booking calendar will adjust for more time and the invoice will reflect the upgrade as well. More time equals more great photos to choose from. Simply select your upgraded session and click "Book Now".
Be sure to check out our FAQ's if you have more questions.
Choose Your Preferred Photo Shoot Experience
---
Calendar Deadlines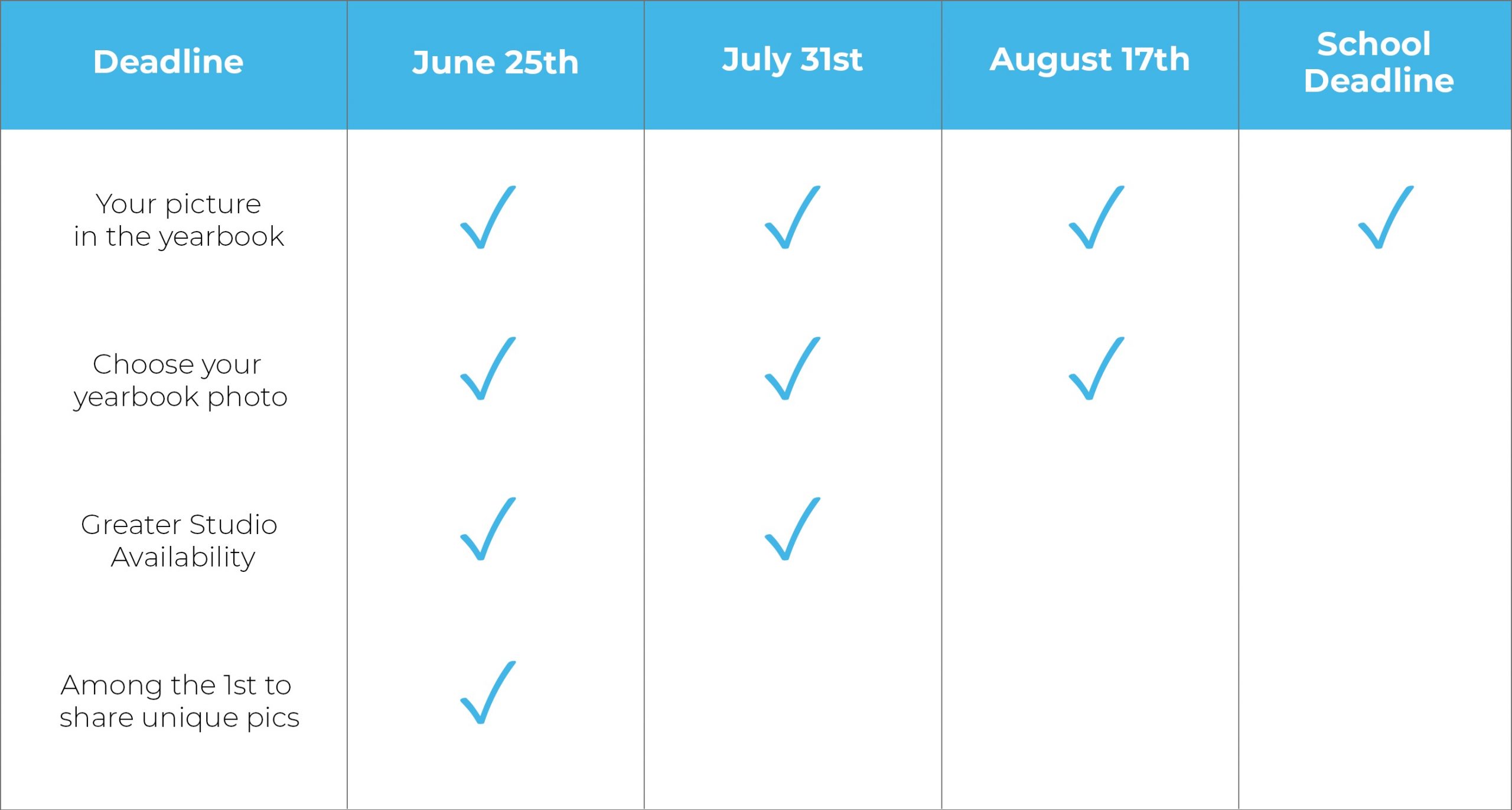 School Requirements
---
Pine Crest requires each rising senior to be photographed in a traditional formal scene the summer before your senior year begins.
We provide the necessary drape for the ladies and a tuxedo shirt and jacket for gentlemen. All sessions must be completed before your senior year begins.
You must select your images within 3 weeks of school starting in order to choose your own yearbook image. Otherwise one will be chosen for you.
School Events
---
TBD! Check back for updates as to when Little's will be coming to your school!
Click Here on your mobile device to download the school app; Updates to come on when Little's will be at your school!
Investment (The Big Reveal)
---
Picture yourself sitting comfortably in your own private screening room at the studio. The lights turn down and up on the giant screen in front of you appears an incredible image of your family! Then another, and another, and another! Welcome to your Big Reveal. This is a huge part of the special experience Little's is known for. Only available for select sessions.
Contact Us
---
To reach us call the studio at 954-563-0444, if we don't answer we are most likely helping another client on the other line. Leave a detailed message, or send us an email at info@littlesphotography.com. We will get back to you as soon as possible.
You are also welcome to stop by our studio during business hours, at 2552 N Federal Highway Fort Lauderdale 33305.
See our sister brand Little's Photography
---
Did you know we offer headshots too! Not just that, we offer more forms of photography. Check out our website at Littlesphotography.com